About Prathyasha
---
Founded by Mellow Circle in early 2007, Prathyasha is a Home of Hope for Children with HIV AIDS. It takes care of the physical, emotional, educational, nutritional and medical well-being of these children by housing them in our own home, so that their days on earth have a humane touch, a touch of dignity. Hence the name 'Prathyasha', meaning hope.
Prathyasha is located on a 17000 sq.ft. Plot near Avadi, Chennai, India and is currently home to 21 children. Our goal is to increase this number to 50 children in the near future.
The land for Prathyasha was donated by Mr. K.N. Oommen in memory of his late wife Mrs. Mary Oommen.
---
Objectives
To address the physical, emotional and medical needs of children with HIV AIDS
To provide free shelter, food, education, clothing and health care
To extend counselling, psychological support and community care for children
To equip such orphans with life skills and moral values
To establish a vocational training centre for children above 15 years
To increase awareness on AIDS and AIDS related issues
---
Facilities
Prathyasha is much more than a home for these abandoned children and we try to ensure that this is their home away from home.
We are very well staffed with a Project Coordinator, Home Caretaker, Asst Caretaker, Cook, Maid, Watchman and Driver.
Apart from this we have a part time Tutor who helps the children with their school lessons and spoken English classes.
A guidance Counsellor visits the children periodically to assist the children and to address problems they may be facing.
Members from Mellow Circle take turns to teach them various skills such as Musical Instruments, Singing and Acting to name a few.
The home has two dormitories, one each for the girls and the boys.
The home has a library as well as a computer to help the children equip themselves with additional skills.
On weekends, the Ann Foundation, an American NGO, conducts classes in Spoken English via Skype.
The children maintain a Kitchen Garden where they are encouraged to help in its upkeep.
A courtyard doubles up as a playground for the children. It is large enough to play several outdoor games and is the ideal recreational spot where the children can keep themselves fit in body and mind.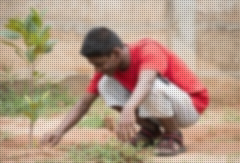 ---
Education
Most of our children study at the nearby Government schools. From this year few of the children were enrolled in private schools. These were our brighter children where we can raise them to their full potential. Children attend special classes' every day at the home in addition to their regular studies. Two of our senior children have passed their 12th standard last year. They secured 72 % and 84%. Now they are pursuing higher studies and we continue to support them.
---
Staying Healthy
Children with HIV/AIDS can live healthy lives for longer if proper care and support is provided. Our children's immune system is strengthened by medical treatment, food, rest, exercise and lifestyle. We provide emotional support and a positive attitude to avoid depression.
Here are some of the things we do:
Educate our children about HIV/AIDS and about healthy eating
In association with Institute of Child Health, Egmore, every month our children undergo a routine check up and collect the monthly quota of ART medicines.
Their CD4 count is checked once in six months.
Our children are also registered for additional medical support with YRG Care, Adyar, led by Dr Suniti Solomon.
Our children attend the special camps held by DR. S.N. Mothi, a Godfather to HIV+ kids.
Our kids are fortunate to be under his care too.
For any dental related issues our children are taken care by Meenakshi Ammal Dental College and Hospital under the supervision of Dr. Ditto Sharmin.
---
Vocational Training
Vocational training will offer training for specific jobs. Students of vocational schools have an advantage over informally trained job-seekers because an independent organization certifies that they have the skills needed to successfully perform a specific, skilled occupation. Under the proposed project, Mellow Circle Trust will facilitate vocational training in Prathayasa Home to 50 HIV affected children (above 12 years) as well as other orphan children in Avadi Municipality, Chennai.
---
Festivals & Recreation
All major festivals are celebrated at Prathyasha with gaiety and a special menu befitting that day. Children host variety entertainment programmes that are attended by Mellow Circle members and important guests.
Periodically the children are also taken out on Picnics and visits to recreational centers.
---
Admission
Children who are HIV positive are admitted into the Home. Preference is given primarily to double orphans followed by single orphans. The Child Protection Committee monitors the intake of inmates to the Home. All our children are registered under the Child Protection Programme of the Government